One Time/Recurring Donation Through Mohid Secure Payment System
One Time Donation Through Paypal
Welcome To Baymeadows Islamic Center (BIC)
Mission Statement
The mission of Baymeadows Islamic Center(BIC) is to establish a facility for the prayer, education and religious gathering for the Muslim Community of Jacksonville. Also to do all such activities that foster and promote Islam and its heritage as dictated in the Quran and the Sunnah (tradition) of Prophet Muhammad (pbuh) and promote Islamic values among Muslim Community of Jacksonville. 
– 
NOTE: Baymeadows Islamic Center will remain CLOSED for JUMU'AH PRAYER until further notice.
Assalamu alaikum community members, 
In regards to spiritual needs for our community, BIC will offer a virtual khutbah every Friday at 1:30PM to 2:00PM. This can be accessed from BIC Facebook page every Friday at 1:30PM. 
https://www.facebook.com/BaymeadowsIslamicCenter/
Please join us via Facebook, In Sha Allah, you will not only get the spiritual and educational benefit but also remain in contact with BIC via online weekly khutbah. 
Baymeadows Islamic Center will remain closed for Friday prayer,  however, Jumu'ah Khutbah will be broadcasted via Facebook. 
JazakAllah Khair for your support and understanding.
May Allah SWT protect us from any evil or harm and ask Allah SWT for HIS help and refuge in this time of uncertainty. Ameen.
–
Baymeadows Islamic Center 
Management Committee
________________________________
CANCELLATION OF FRIDAY PRAYER AT BAYMEADOWS ISLAMIC CENTER
Assalam o Aliakum,
Dear Brother/Sisters
For the safety and wellbeing of our community, we are CANCELLING all the gatherings at Baymeadows Islamic Center. 
No Jummah prayer will be offered at BIC till further notice.
However, the center will remain open for daily prayers. All other gatherings including; open house, halaka, classes and any social activities will be postponed till further notice. 
The decision is based on scholars opinions, city recommendations, precautionary measures and  wellbeing of our community. 
May Allah SWT help us in this difficult time, protect our nation, and guide us to make better choices for our community.
"We seek refuge in the Perfect Words of Allah from the evil of what He  has created." At-Tirmidhi 5/465
Sincerely
BIC Management
__________________
– BIC Board of Directors Election Result
Assalamu alaikum,

BIC only received 2 nominations for the open positions for Board of Directors elections this year.   Alhamdullillah, as a result, these 2 members will both become Board of Director members starting Jan 1, 2020, Insha-Allah.

May Allah guide and reward Dr Mohammed Ilyas and Dr Mubarak Abdur-Rahman as they serve our community. 

JazakAllah Khair,
Arif Kidwai
Secretary
BIC Board of Directors
____________________

– Due to parking issues at BIC and for the convenience of the community Insha'Allah BIC will have two Juma prayers starting from October 26, 2018.

BIC JUMU'AH SCHEDULE:
First
Khateeb:          Sheikh Mostafa Muftah
Khutbah:          1:15 PM
Prayer:             1:45 PM

Second


Khateeb:          Sheikh Mostafa MuftahKhutbah:
2:15 PMPrayer:
2:35 PM
– 
For the benefit of those who may have difficulty with parking at BIC, below marked areas are the additional BIC allowed parking spaces during the Juma time. Also, there will be volunteers to assist in parking. Please DO NOT BLOCK your cars as there will be a Towing Company in place to take necessary actions at your own expense.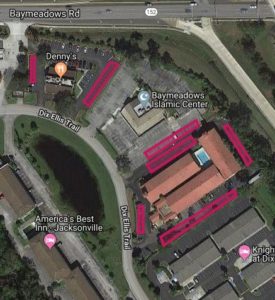 Jumuah Timings remains the same for Daylight saving