One Time/Recurring Donation Through Mohid Secure Payment System
One Time Donation Through Paypal
Welcome To Baymeadows Islamic Center (BIC)
Mission Statement
The mission of Baymeadows Islamic Center(BIC) is to establish a facility for the prayer, education and religious gathering for the Muslim Community of Jacksonville. Also to do all such activities that foster and promote Islam and its heritage as dictated in the Quran and the Sunnah (tradition) of Prophet Muhammad (pbuh) and promote Islamic values among Muslim Community of Jacksonville. 
Subscribe to BIC Mailing List
Ramadan Mubarak!!!
As-salamu alaykum,

Baymeadows Islamic Center wishes you and your family Ramadan Mubarak!!! The Taraweeh prayer will be starting from Monday night April 12th, and the first day of Ramadan will be Tuesday April 13th, Insha'Allah.

Insha'Allah Taraweeh prayer will be 20 Rakaah which starts few minutes after the Isha prayer at 9:15PM

No Iftar will be provided at BIC this year due to COVID restrictions.If you would like to sponsor/participate in feeding the needy people for Iftar, please donate Baymeadows Islamic center "Food Vouchers for the Needy"  by clicking the links below.

DONATE ONLINE

PAYPAL

NOTE:Please understand the risk of attending the gathering include COVID contagious disease.
All attendees must wear FACE MASK inside the building, bring your OWN PRAYER RUG, come with Wudu, try not to use restroom at BIC, keep a social distance of 6 feet, and abide by all the rules and regulations of BIC.
Ramadan Prayer Schedule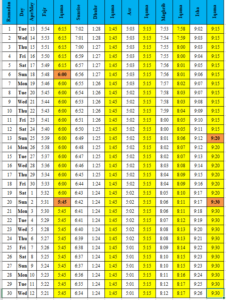 __________________________________________________________________________________
BIC – Online Zakat application for needy people:
BIC-ICNA RELIEF:
Assalam O Alaikum,

Baymeadows Islamic Center in collaboration with ICNA RELIEF Jacksonville would like to support the needy people of our community at this time of crises. Due to Corona Virus threat, many Day to Day Working families are suffering due to lack of business activities. We are establishing a FOOD COUPON program for needy families in our town to assure the continuity of basic food items.

We have about 300 food coupons from ICNA relief for poor and needy peoples of our community. If you know anyone need food we should be able to give the coupon. Each coupon is $55.00 worth for groceries purchases.

Please feel free to share this information with your friends and family to make this program effective in our community. 
 
Jazakallah Khair 
ICNA Relief Jacksonville