One Time/Recurring Donation Through Mohid Secure Payment System
One Time Donation Through Paypal
Welcome To Baymeadows Islamic Center (BIC)
Mission Statement
The mission of Baymeadows Islamic Center(BIC) is to establish a facility for the prayer, education and religious gathering for the Muslim Community of Jacksonville. Also to do all such activities that foster and promote Islam and its heritage as dictated in the Quran and the Sunnah (tradition) of Prophet Muhammad (pbuh) and promote Islamic values among Muslim Community of Jacksonville.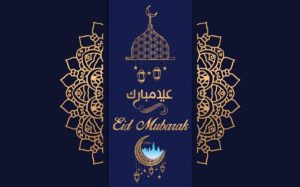 Assalamu Alaikum my brothers & sisters 
Tomorrow Tuesday, June 4th Insha'Allah will be Eidul-Fitr . May Allah accept our worship The new crescent has been sighted in several countries, like Saudi Arabia, UAE, Qatar, Yemen and others. 
BIC wishes you and your family Eid Mubarak!!!
The Eid prayer will be offered at BIC, Eid program includes  
Takbeerat starts at 7:00 AM.
Eid prayer starts at  7:30 AM sharp at Baymeadows Islamic Center
غدا الثلاثاء إن شاء الله تعالى هو يوم عيد الفطر المبارك أعاده الله علينا وعليكم وعلى الأمة الإسلامية بالخير واليمن والبركات 
تكبيرات العيد ستبدأ الساعة 7:00 صباحا وصلاة العيد ستبدأ 7:30 صباحا فى مبنى المسجد نفسه 
–
Imam Mostafa Muftah
Zakat ul-Fitr:
BIC is collecting the Zakatul-Fitr amount and distributing to the needy. The cost of Zakatul-Fitr is $10/member of the family, which needs to be paid before EID salat. . You can donate it by placing the amount in a Zakatul-Fitr envelope at BIC or if you want to donate it online then CLICK HERE .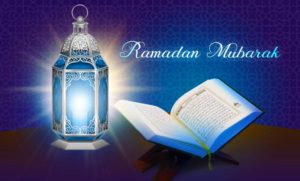 — Assalamu alaikom my brothers and sisters,
Inshallah Tomorrow(Sunday) is The Last Day of Shaban and Monday is The First Day of Ramadhan.

Taraweeh Salah starts from Sunday night.

Isha  at 9:45PM
Taraweeh at 10:00PM

Ramadhan Mubarak!!!

Imam Mostafa Muftah 
Baymeadows islamic center
Sponsor Iftar at BIC:
Insha'Allah we will be holding daily Iftars at BIC during the month of Ramadan. If you would  like to sponsor Iftar at BIC please 
C
LICK HERE
 to signup/reserve online or email us at 
bicjaxinc@gmail.com
.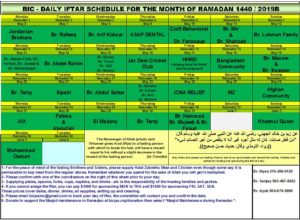 – Due to parking issues at BIC and for the convenience of the community Insha'Allah BIC will have two Juma prayers starting from October 26, 2018.
BIC JUMU'AH SCHEDULE:
First
Khateeb:          Sheikh Mostafa Muftah
Khutbah:          1:15 PM
Prayer:             1:45 PM

Second


Khateeb:          Sheikh Mostafa MuftahKhutbah:
2:15 PMPrayer:
2:35 PM
– 
For the benefit of those who may have difficulty with parking at BIC, below marked areas are the additional BIC allowed parking spaces during the Juma time. Also, there will be volunteers to assist in parking. Please DO NOT BLOCK your cars as there will be a Towing Company in place to take necessary actions at your own expense.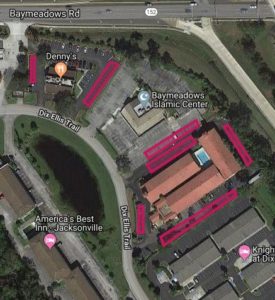 – The BIC Board of Directors is putting together an updated Membership/Community Directory that will NOT be shared outside the board and will NOT be published to the community and will NOT be sold to anyone.  Below is a link to add your name to the BIC list.  
When filling out the form, you have three options:
1) Apply for new membership (which you can do even if you have completed a paper form before)
2) If you know that you have already completed a paper membership application, then please mark the correct box and enter your information to be included in the new directory.
3) If you do not want to become an official member, please mark the correct box and still complete the online form so that we can have a list of our community.
The primary benefits of being an official BIC member are the ability to vote each year for the BIC Board of Directors and to run for a position on the Board of Directors.  Membership applications are reviewed and approved based on an individual's contributions to the BIC community, including non-financial contributions. Membership costs are $50 for students/senior citizens, $75 for single members, and $150 for family memberships. 
JazakAllah Khair, 
BIC Board of Directors